Toronto, Aug 9 - 12, 2017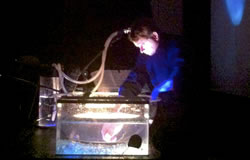 Ricardo Coelho de Souza performing David Ikard'sÁgua Eletrônica (2013), for water percussion and live electronics, during the Toronto Electroacoustic Symposium at Theatre Direct's Wychwood Theatre on 15 August 2013. [Click image to enlarge]
TIES 2017 is a co-presentation of the Canadian Electroacoustic Community(CEC) and New Adventures in Sound Art (NAISA) in collaboration with the Canadian Music Centre (CMC). TIES is held in parallel with the 18th edition of Sound Travels, NAISA's annual Festival of Sound Art. The Keynote Speaker for TIES 2017 is Chantal Dumas.
Activities take place primarily at the Case Goods Building in Toronto's historic Distillery District, in the Ernest Balmer Studio (Tapestry New Opera) and the Michael Baker Studio (Dancemakers.)
Registration — includes entry to all concerts [ register now ]
Webcast — Listen in to all events on a live stream.
Questions about the schedule or any other aspect of the symposium can be directed by email to Nadene Thériault-Copeland, Chair of the symposium committee. For any registration or Sound Travels questions, contact Nadene Thériault-Copeland.
Day 1 — Wednesday 9 August 2017
18:00–19:30 • Installations
Venue: Michael Baker Studio
Installation by : Arne Eigenfeldt and Simon Lysander Overstall; and by Teresa Connors
19:30–22:00 • Symposium Concert #1 Venue: Ernest Balmer Studio Host: TBD
Alexis Langevin-Tétrault — Shapeshifter
Myriam Boucher — Cities
Robin Cox — START, for violin and fixed media
Felipe Ramirez Rodriguez — "Reto" (Challenge), for violin and fixed media
Marie-Hélène Breault and Martin Bédard — Replica
–intermission–
Nicola Giannini — Inner Out (2015/12:17), for ice and live electronics
Dominic Jasmin — Waste-to-Energy (2017/9:44)
Sang Won Lee — Live Writing: Gloomy Streets (2015/10:00), audiovisual
–intermission–
Marko Ciciliani — Atomic Etudes (2016/9:00), a game-based work for Monome and SuperCollider
Hanna Hartman — Fracture (2016/23:40)

–intermission–
Dariusz Mazurowski — Dossier of Oblivion (2015/14:00)
Jullian Hoff — Verklärter Rohr (2016/22:00), for bass clarinet, video and electronics

Charlotte Layec, bass clarinet

Nicola Giannini — Inner Out
Inner Out focusses on the microsounds created by melting ice, with the idea to amplify sounds that normally are not audible. The work is inspired by macro photography that can provide the ability to observe the veins of a leaf. The textures and the percussive elements are generated from ice blocks used as musical instruments. Inside each block there is a hydrophone, a waterproof microphone. Four blocks of ice of different sizes and shapes are played with drumsticks, plectrum, etc. to obtain a range of acoustic behaviours. The work investigates the ice as matter and its natural constraints. The sonic result is always different because of the microphones' freezing position and the unpredictability of the melting process. For this work I was inspired by the dialectic between man's desire of control and the unpredictability of natural events.
Nicola Giannini is a sound artist, performer and composer based in Florence, Italy. He explores subjects such as narrative structures, aural features of buildings and organic sounds. His practice focusses on acousmatic multi-channel composition and live performance. In September 2016 he completed an artist residency at Tempo Reale in Florence. In July 2017 he will join the Elektronmusikstudion EMS Stockholm for another residency. His most recent piece is Inner Out, a concert work for ice and live electronics. Nicola has a master's degree in Electroacoustic Composition from the Conservatory of Florence, obtained with honourable mention. He has performed in events and festivals such as Tempo Reale Progetto Primavera, Hand Signed, Diffrazioni Festival, Il Corpo La Luce Il Suono, Segnali, RomaEuropa and Mapping Festival.
DOMINIC JASMIN — WASTE-TO-ENERGY
Waste-to-Energy was composed at the Conservatoire de musique de Montréal from September 2016 to February 2017 in Louis Dufort's composition class. The piece is based on the interplay between seemingly uncorrelated sounds and spaces where each layer of sound was performed as a response to the ones that came before, creating a musically expressive discourse. Waste-to-energy is a method of incineration in which household waste is burned to generate electricity. In this piece, energy is distilled from sounds which would have been discarded for other uses.
Dominic Jasmin is a young composer from Montréal currently studying electroacoustic composition at the Conservatoire de musique de Montréal under Louis Dufort. Having studied jazz before electroacoustics, his compositional approach is rooted in improvisation and performance to convey a sense of spontaneity. His musical interest lies in exploring the interaction between different sounds and the saliencies obtained through their amalgamation. Other than his studies, he performs free-improvised guitar and electronics, either solo or in his duo with another Montréal-based composer, Line Katcho.

SANG WON LEE — LIVE WRITING: GLOOMY STREETS

Live Writing is an audiovisual performance realized on a web browser. Here, every keystroke made on a laptop to write a poem is captured and processed to create audiovisual responses on top of what's written. The piece is built upon a poem written about feelings of being isolated from the general public and living in solitude, in one's comfort zone. Revealing the process of writing-to-audience shows the writer's emotional states (such as contemplation, hesitation, confidence or agitation) that can emerge during the process of typing based on temporal patterns, for instance, pause, bursts or corrective steps. In addition, interactive text in motion enabled by the temporal typography helps express the message written in the poem, taking inputs from live audio, sensors and the content of writing.
Sang Won Lee is a PhD Candidate in Computer Science at the University of Michigan, supervised by Georg Essl. His works lie at the intersection of music and computer science, focussing on collaborative music making, live coding and interactive music. He seeks to create performance systems that help musicians connect with other musicians, an audience and machines. Lee received his Master's Degree in Music Technology from Georgia Tech. under the supervision of Jason Freeman. He has performed in many computer music concerts numerous times, including NIME and ICMC, and received the International Computer Music Association Music Award (Student) 2016 with his audiovisual performance, Live Writing: Gloomy Streets.

MARKO CICILIANI — ATOMIC ETUDES
a game-based work for Monome and SuperCollider
Marko Ciciliani, monome
Atomic Etudes was inspired by a visit to the National Atomic Testing Museum in Las Vegas. The piece combines the coincidence of gambling and nuclear tests that were an attraction in Las Vegas of the '50s, when nuclear tests were taking place in the nearby Nevada Test site and could be seen from certain cocktail bars. Here the Monome serves as an interface and visual display consisting of 16 x 16 LEDs. It shows trajectories bouncing off the edges, where they divide into two trajectories. This division is a simplified simulation of nuclear chain reactions, where a neutron splits an atom, thereby releasing two new neutrons that continue the chain reaction. The task of the performer is to contain the propagations of the trajectories, absorbing them by pressing the corresponding buttons when they reach the edge of the display.
Marko Ciciliani is a composer, performer, researcher and audiovisual artist based in Austria. The focus of his work lies in the composition of performative electronic music, mostly in audiovisual contexts. His music has been performed in more than 35 countries across Europe, Asia, Oceania and the Americas. Ciciliani is full Professor for Computer Music Composition at the Institute for Electronic Music and Acoustics (IEM) of the University of Music and Performing Arts Graz. His primary fields of research are audiovisuality and performance practice of electronic music. Ciciliani received numerous project residencies at STEIM (Amsterdam), ESS (Chicago), ICST (Zürich), Mittersill (Austria) and ZKM (Karlsruhe). In 2009 he was recipient of the prestigious Villa Aurora Stipend, a three-month artist residency in Los Angeles. In 2015 Ciciliani was granted funding for a three-year artistic research project titled "GAPPP — Gamified Audiovisual Performance and Performance Practice."
HANNA HARTMAN — FRACTURE
Fracture is based on sound recordings as well as recordings of bassoon (performed by Dafne Vicente-Sandoval) and Buchla synthesizer. Dishes, windows and doors tremble. Parked cars swing. Unstable objects falling. Trees swaying. Walking is difficult. Driving is difficult. Fireplaces, factory chimneys, columns, monuments and walls collapsing… Commissioned by Deutschlandradio Kultur and premiered on 7 October 2016.
Hanna Hartman is a Swedish composer, sound artist and performer living in Berlin. She studied Literature and Theatre History at the Universities of Uppsala and Stockholm, Radio and Interactive Art at DI and Electroacoustic Music at EMS in Stockholm. She has composed works for radio, electroacoustic music and ensembles, and has created sound installations and given numerous performances all over the world. Among her many awards and grants are the Karl-Sczuka-Preis, the Phonurgia Nova Prize, a Villa Aurora grant and the Rosenberg Prize. During 2007–08 she was Composer-in-Residence at Swedish Radio. Her work has been presented in numerous concerts and festivals, such as Wittener Tage für neue Kammermusik, Darmstädter Ferienkurse (2012, 2014), Ultima Oslo Contemporary Music Festival (2012, 2014), Huddersfield Contemporary Music Festival (2013, 2016), el nicho aural (Mexico City 2014) Akousma (Montréal 2014), micromusic (Berlin 2016), Eclat Festival (Stuttgart 2017) and Cut & Splice Festival 2017.

DARIUSZ MAZUROWSKI — DOSSIER OF OBLIVION
Dossier of Oblivion is the second part of Hidden Dimensions (a large-scale electroacoustic composition in three parts), which can also be performed as a separate piece. The work is a very personal artistic expression dealing with thoughts on the flow of time, evanescence, beloved people and places — realizing that nothing is forever, nothing is eternal. The music was recorded at the De eM Studio between January 2014 and April 2015. The definitive version is a 6-channel audio projection (5.1 surround sound with a separate LFE channel), but this can easily be expanded for performance on more channels according to the context. The main audio sources for this composition include complex analogue, digital and hybrid synthesizer patches, textures created with the use of phase vocoder technology, and analysis and resynthesis of various source samples. The complete version of Hidden Dimensions was premiered during Cross-Art Festival 2015 (Saint Petersburg).
Dariusz Mazurowski is a Polish electroacoustic music composer, producer and performer born and currently residing in Gdansk. While the majority of his compositional activity has focussed on acousmatic works, he has also composed instrumental music in conjunction with electronics, audio installations and improvised music. His works combine analogue instruments with digital technology and computers, synthesized sounds with processed microphone recordings. His compositional approach is dynamic in that it involves live electronics and live sound diffusion across multi-speaker systems. Recent performances include Audio Art (Krakow 2012, 2013, 2014, 2015), Musicacoustica (Beijing 2012), Resonance (Krakow 2013), ohrenhoch der Geräuschladen (2012 / 2014), Echofluxx14 (Prague 2014), LEMESG (Saint Petersburg 2014), Music for No Tape / ERARTA (Saint Petersburg 2014), ICMC/SMC (Athens 2014), Cross-Art 2015 (Saint Petersburg), CIME 2015 (Lisbon), MUSLAB 2015 (Buenos Aires), NYCEMF 2016 (New York), Visiones Sonoras 2016 (Morelia, Mexico) and MUSLAB.

JULLIAN HOFF — VERKLÄRTER ROHR
for bass clarinet, video and electronics
Charlotte Layec, bass clarinet
Algorithmic-driven electronic instruments produce phantasmagories of the clarinet. The human's playing is described by indirect acquisition and establishes a dialogue with the machine in real time in order to produce multiple transfigurations of the instrument as aural and visual manifestations. Verklärter Rohr can be translated as Transfigured Tube.
Jullian Hoff enjoys working both in fixed media and living multimedia comprovisations, drawing his inspiration from themes like lyrical abstraction, surrealism, the role of the humans with technology, techno culture and post-humanism. His work has received awards in two separate editions of the Canadian Electroacoustic Community's Jeu de Temps / Times Play (JTTP), in the Musicacoustica competition of Beijing and in the Prix Russolo, and since 1995 has been performed in France, Canada, the USA, Italy, Brazil, Australia and China. His work also received an honourable mention in the Bourse Euterke organized by the Société des Arts Technologiques (SAT) in Montréal. Hoff's work has been presented in several international festivals including the San Francisco Tape Music Festival (2012), the Sound Travel Festival (Toronto 2013), the International Animation Festival of Ottawa (2014), Akousma XI (Montréal 2014), New York City EMF (2015) and Suoni per il popolo (2015).
Day 2 — Thursday 10 August
15:30-16:30 • Symposium Concert #2
Venue: Ernest Balmer Studio
Host: TBD
Nathaniel Haering — Cimmerian Isolation (2016/9:00), for flute, processing and fixed media
Shawn Pinchbeck — reForce (2015/12:30), fixed media audio and live video
Christopher Hopkins — The Animus Winds (2006/8:00), for flute and electroacoustic sound
Lise-Lotte Norelius — You Are the Flower (2014/19:35)
Kenneth J. Cox and Katherine Watson, flute

Nathaniel Haering — Cimmerian Isolation for flute, processing and fixed media Kenneth J. Cox, flute
A brooding duet for the self, Cimmerian Isolation finds meaning in the interplay between the sound of the flute and the performer's own primal uttering. These two often separate entities interact with and are greatly accentuated by the addition of live electronics and extensive real-time processing. "Cimmerian" in this case references its definition as an adjective, meaning "very dark or gloomy", and attempts to elicit imagery of a wealthy recluse living in cimmerian isolation in a decaying Victorian mansion, left only to themselves and descending into eventual madness.
Nathaniel Haering is deeply interested in the use of live electronics to expand the artistic capabilities of traditional instruments and augment their timbral horizons while enriching their collaborative and improvisational possibilities. He has collaborated with and has had works performed by Grammy Award-winning Vietnamese performer Vân Ánh Võ, Ensemble Mise-En, members of WasteLAnd, and Ensemble Dal Niente. His pieces have recently been featured at the Toronto International Electroacoustic Symposium, SEAMUS 2016 Conference (Statesboro, Georgia), Electronic Music Midwest (Kansas City), Root Signals electronic music festival (Jacksonville, Florida), SPLICE Institute (Kalamazoo, Michigan), N_SEME (Louisiana State University) and NYCEMF in New York City. This summer he will be working with Master Artist John Gibson at the Atlantic Center for the Arts Residency in Smyrna Beach, Florida. Nathaniel is a master's student at Bowling Green State University studying with Elainie Lillios and Mikel Kuehn.
One of the freshest and most cutting-edge flutists on the rise, Kenneth J. Cox is taking the music scene by storm. Armed with a large spectrum of musical styles, his performances have been described as "breathtaking" by The Seattle Times, and he has performed in over twenty internationally acclaimed venues throughout the United States, Canada, France, Germany, Italy, the Netherlands, China and Japan, including the National Performing Arts Centre (Beijing), Teatro Verdi (Florence), the Shanghai Grand Theatre and Carnegie Hall, among others. He has collaborated with some of the world's leading contemporary champions, including Claire Chase, Steven Schick, the International Contemporary Ensemble, Christian Wolff, Kate Soper, Jan Williams, members of the JACK Quartet and Tony Arnold. Kenneth is currently pursuing a Doctor of Musical Arts degree in Contemporary Music Performance with a specialization in Flute at Bowling Green State University and serves as the Teaching Assistant to Conor Nelson.

SHAWN PINCHBECK — REFORCE

reForce is a piece that explores a fixed media score that utilizes processed flute sounds and live interactive video. It continues my explorations of electroacoustic music, moving image and performance. With these compositions, I try to build connections between the two mediums to create an expressive integrated live work that explores emotion, nuance and dynamic. My æsthetic goal is not necessarily to create a tangible narrative, but to explore the intersections between two abstract compositional elements.
Shawn Pinchbeck is an electroacoustic music composer, new media artist, performer, installation artist, teacher, curator and sound engineer based in Edmonton, Canada and Viljandi, Estonia. Shawn's performance works and installations have been presented widely at numerous festivals and exhibits across Canada and Europe. He collaborates extensively, creating interdisciplinary works with artists of all backgrounds. In 2017, he has been focussing on music for contemporary dance with Alberta-based Good Women Collective and solo live cinema performances. Shawn holds a PhD in electroacoustic music composition from the University of Birmingham, where he studied with Jonty Harrison. He currently teaches sound and interactive art at the Art Research Lab at Liepaja University (Latvia).
CHRISTOPHER HOPKINS — THE ANIMUS WINDS
Thematically, The Animus Winds explores an opposition of two perceptions: the autonomous sensual experience of wind against a personification of wind as a supernatural force. The electroacoustic sound recolours and reshapes recordings of wind and flutes, such that the flutes take on characteristics of the wind, and the wind takes on both musical and vocal qualities. There is also a dramatic schema, in which the flute takes the role of a person who is at times drawn into the natural spirit of the wind, and at other times strongly confronts its more hostile animus.
Christopher Hopkins is a composer and performer with special interests in the integration of electroacoustic composition, instrument design and graphical notation, dialectics of historical musical styles, and performing Renaissance and Baroque music for the viola da gamba. He is Associate Professor of Music at Iowa State University of Science and Technology, where he has been Director of the Center for Excellence in the Arts and Humanities and has led research developing 3D haptic (virtual touch) virtual reality designs for musical composition and performance. He holds a Doctor of Musical Arts degree from Cornell University and a Master of Music degree from the Cleveland Institute of Music. His compositions have been performed at major festivals in Athens, Basel, Grenoble, Hong Kong, Honolulu, Melbourne, New York City, Tanglewood, Toronto, Vienna and Zürich, with media broadcasts Australian Broadcasting Corporation, CBC, Östereichischer Rundfunk, Radio Canada, WNYC and Public Radio International.
One of Toronto's emerging Classical and contemporary artists, Katherine Watson has premiered dozens of new compositions and recorded for CBC radio. She has performed with Continuum Ensemble, Soundstreams, New Music Concerts, Fawn Opera, Bathurst Music Festival, Bicycle Opera Project and the Toy Piano Composer's Ensemble. She currently is a member of Toronto Winds and Charm of Finches, and regularly performs the Lieutenant Governor of Ontario's office and with the Bach Children's Chorus. Most recently, she was invited on full scholarship to attend the Lunenburg Academy of Music and Performance in Lunenburg (Nova Scotia) to study privately with Douglas Stewart of the Canadian Opera Company Orchestra. In May 2016, Katherine participated in the Montréal Contemporary Lab's New improvisation clinic, and performed in chamber and orchestral concerts in New Brunswick. She obtained her Master's in Music performance from McGill University in Montréal in 2016, studying with Timothy Hutchins (Montréal Symphony Orchestra).
LISE-LOTTE NORELIUS — YOU ARE THE FLOWER

You Are the Flower was composed for the Klangdom at ZKM (Karlsruhe). During my residency at the ZKM, I learned to use the Zirkonium, a panning software that I also used in this work. As an experiment, a few tracks were panned with Arduino and simple sensors, and recorded in Max/MSP. This work resulted in a very natural romantic piece. I'm quite surprised myself. You might imagine that the first part is a field recording from the woods in northern Scandinavia and the second part some kind of strange folk music, inspired by hurdy-gurdy. Just lean back and imagine for a moment that you are the centre of the world, or the flower on the ground.
Lise-Lotte Norelius has more than 30 years' experience as a musician. She established herself early as a percussionist but since 2000 has mainly been focussing on live electronics. She studied electroacoustic composition at the Royal College of Music in Stockholm 1998–2002 and has since composed music for speakers, musicians with live electronics, poetry, theatre, installations and dance performances. The preference for small, pathetic, comic and ugly sounds, rhythmic structures and long lines often characterize her music, which can be both beautiful, raw and brutal. The last years she has been using controllable motors, home made noisy devices, synth jewellery, vacuum cleaners and floppy drives for further processing with her Max/MSP software and various effect boxes.
19:30-22:00 • Symposium Concert #3
Venue: Ernest Balmer Studio
Host: TBD
Martin Bédard — Kissland (2016/12:00)
Patrick Saint-Denis — Wave (2016/13:30), live gestural performance
Erik Nyström — Spheroid (2017/10:00), live computer music
–intermission–
Michael Lukaszuk — My Metal Bird Can Sing (2016/9:44)
Christian Bouchard — Portrait Montréal 1 (2014–16, 17:35)
Tod Emel — Arboreal Audio (15:00), improvised performance
–intermission–
Barbara Lüneburg — Slices of Life (2016/17, 30:00), for violin, voice, soundtrack and video
Martin Bédard — Kissland
Pareidolia is a type of optical illusion that involves associating a formless and ambiguous visual stimulus with a clear and identifiable element. Electroacoustic music offers several analogies with this perceptual phenomenon. Its density, orchestral and organizational richness and possibilities for superimposition and montage may cause the listener to see in it forms that actually exist and to imagine others there that are perhaps not. Because here, at times, the listener guesses more than he sees.
Martin Bédard graduated with the high distinction from the Conservatoire de musique de Montréal in electroacoustic composition. He recently completed a PhD in electroacoustic composition at the Université de Montréal. His works have been presented in more than 70 national and international events and festivals. He is the winner or finalist of twelve international competitions and received an Award of Distinction at the 2010 Ars Electronica competition. Beside his activities as a composer, he teaches electroacoustic music composition at the Conservatoire de musique de Montréal and is a lecturer at the Université de Montréal.
PATRICK SAINT-DENIS — WAVE
The title of this piece refers both to sound waves and gestural waving, as well as to the relationship between the two enabled by performative technologies. In this performance, I use two sensors developed by Thalmic Labs to capture the orientation and electrical activity of the muscles in my forearms. Through custom software, my gestures are transposed to sound in a choreography that stands somewhere between the theremin and the air guitar.
Patrick Saint-Denis is a creative technologist working in sound art and interactive scenography. Works range from video installation to large-scale robotized machinery. Patrick is also a laptop performer and software artist. His works have been showcased in concert, exhibition and dance formats. He is a lecturer of audiovisual composition and physical computing at Université de Montréal since 2010.
ERIK NYSTRÖM — SPHEROID
Spheroid is a live computer music work that uses improvised performance and algorithmic processes to compose spatial texture. The music seeks to evoke a form of post-natural organicity, questioning categorical distinctions between the artificial and the natural, and human and technological agency. The spatial topography created navigates territories of texture perception, where sounds cluster and evolve in a speculative morphogenesis. Spheroid was created as part of a Leverhulme Research Fellowship project, at the University of Birmingham (UK), concerning spatial texture synthesis in composition and performance.
Erik Nyström is a Swedish composer based in the UK whose output includes live computer music, electroacoustic works and sound installations. The majority of his works are created for multi-channel formats and currently utilize real-time interactive composition and performance systems. Among the recurring interests in his practice are topology and spatial deformations, texture perception, entropic processes, and visual and physical listening experiences. He is currently a Leverhulme Research Fellow at BEAST (Birmingham Electroacoustic Sound Theatre) at the University of Birmingham, working on an artistic and technological research project about real-time spatial texture synthesis processes and algorithms. He studied computer music at CCMIX (Paris) and electroacoustic composition at City University (London) with Denis Smalley. His music is performed worldwide and has been released on the disc Morphogenèse by empreintes DIGITALes.
MICHAEL LUKASZUK — MY METAL BIRD CAN SING
My Metal Bird Can Sing blends melody with audio glitches and ambience with noise. Although the piece does not have any kind of strong programmatic elements, I chose the title based on the similarity of some of the sounds used near the end of the piece. I was fond of the way that the kind of lively digital chirping noises blended with some of the recordings of morning birds.
Michael Lukaszuk is a Canadian composer, laptop performer and creative programmer based in Cincinnati, Ohio. He writes fixed electroacoustic works, improvisations for laptops, pieces for acoustic instruments with live processing, along with algorithmic systems in which computers gradually generate music in a live setting. Michael holds a DMA in Composition from the University of Cincinnati, College-Conservatory of Music, graduating with a cognate in computer music programming. His music has been performed at events such as the International Computer Music Conference, Toronto International Electroacoustic Symposium, SEAMUS National Conference, New York City Electroacoustic Music Festival, Electronic Music Midwest, N_SEME and New Music Edmonton's Now Hear This Festival of New Music. In 2015, Michael received 1st Prize in the SOCAN Foundation's Hugh Le Caine Awards for electroacoustic music. Aside from composing, Michael is currently developing new synthesis-based instruments for chucK and RTcmix.
CHRISTIAN BOUCHARD — PORTRAIT MONTRÉAL 1
It is probably because I'm a location sound engineer for films that I wanted to expand the boundaries of field recording for my work as a composer. This piece use multiple sound sources recorded simultaneously on a multi-track rig in my minivan. The track list is: 1. Microphone Shotgun Sanken CS-3e, set outside on the rooftop facing backwards; 2. Microphone Hypercardioid Sennheiser MKH-8050, set inside on the dashboard; 3. Fire station frequencies taken by Internet; 4. Police station frequencies taken by Internet; 5–6. FM radios; 7. AM radios; 8. Weather channel on shortwave. Montréal, 10 October 2013 and 16 January 2014. More than six hours of megabytes. At first, I did a raw montage using automation of volume and pan to reveal the musical potential of this portrait sonore. Then, some effects and synthesizers were added to put some colours over that black chalk skeleton.
Christian Bouchard studied with Yves Daoust at the Conservatoire de musique de Montréal and was awarded First Prize in electroacoustic composition in 2000. He is active in music for theatre, for film, for installations and, more recently, in electronic music (under the pseudonym THiiS B). He is a founding member (with Christian Calon, Mario Gauthier and Monique Jean) of the live electroacoustic quartet Theresa Transistor (winner of the 2005 Prix Opus for Best Concert in the Actuelle and Electroacoustic Music category). His music has been awarded composition prizes at national and international competitions. Christian Bouchard also works as a location sound engineer for cinema.
TOD EMEL — ARBOREAL AUDIO
Arboreal Audio is a mediated, improvised electroacoustic performance designed for surround diffusion. In 2016, the Saskatoon-based sound artist Tod Emel developed an extensive sound library from field recordings gathered in the forests around his hometown of Vanderhoof, British Columbia. Huge swaths of these forests have been killed off by a recent Mountain Pine Beetle infestation. The dry dead trees have a particular sonic character: brittle, fragile, highly textured. Emel actively explores these characteristics, approaching the forest as a massively extended percussive instrument; snapping twigs, dragging branches, scratching sticks across fallen logs. The process becomes a sort of sonic silviculture. Instead of harvesting physical trees and milling them into lumber for construction applications, Emel selectively harvests tree sounds, repurposed in constructing immersive sonic architectures.
Tod Emel completed his BFA at the University of Saskatchewan in 2005. He regularly performs in Saskatoon as a solo artist, as well as having performed with audiovisual noise-jammers Psychic Driving Range and his latest freak jazz project Muttering. From 2008–11, Tod served as the Director of AKA Gallery in Saskatoon, where he initiated the Sounds Like audio art festival in 2011. He has continued his involvement with Sounds Like, co-curating a programme in 2013, sitting on the jury for 2014, and with the programming committee in 2015. Tod formed the Unheard Sound collective in 2015 with Travis Cole and Chad Munson, presenting curated experimental audio art events. Tod has served as a juror for the Saskatchewan Arts Board's Independent Artist Programme and at the Canada Council for the Arts in the Architecture and New Music Programmes.
BARBARA LÜNEBURG — SLICES OF LIFE
Slices of Life was developed in the framework of TransCoding, an artistic research project with the topic of identity and the many facets identity can take on. We investigated if people can be encouraged via social media to contribute to a multimedia artwork, and what this does to art, artists and contributors. Images, texts and sounds for the show are to a large extent the result of the contributions of the TransCoding community, whom we inspired to get creative for the project. Contributors from Cuba, Spain, Canada, Croatia, USA, Austria, Philippines, Armenia, Russia, England, Poland, Bulgaria, New Zealand, Germany, Romania and France are Louis Aguirre, Victor Barceló, Julien Charest, Gloria Guns, Anthony Green, Camilla Hoitenga, Olivia Kieffer, LIA, Feliz Anne Macahis, Katarina Michelitsch, Anahit Mugnetsyan, Alina Murzakhanova, Paul Norman, Heghine Ohanyan, Mikolaj Pociecha, Alexandra Radoulova, Hali Rey, Damian Stewart, students of the University of Music Graz, Felix Christian Thiessen, Sabina Ulubeanu, Isabelle Vigier, Michael Wolters and Susanne Wosnitzka.
Barbara Lüneburg is a performing artist of international reputation in the fields of contemporary music, violin, viola and multimedia. She has had appearances at festivals and concert series across Europe, the USA, Asia and New Zealand. She holds a professorship for Ensemble and Digital Performance at the Musikhochschule Trossingen (Germany) and works as a senior researcher at the Kunstuniversität Graz. Lüneburg's arts-based research focusses on the creative potential of performance practice in new music with an emphasis on collaboration, creativity, performer-audience relations and charisma. She explores theories from media sciences, music sociology, psychology and creativity research for their uses in arts practise. In her artistic research project "TransCoding — From 'highbrow art' to participatory culture" she investigates participatory art and its potential to engage a young audience via social media in the new arts by involving them in the creation of the multimedia show Slices of Life.
Day 3 — Friday 11 August
15:30–16:30 • Symposium Concert #4
Venue: Ernest Balmer Studio
Host: TBD
Robert McClure — Lingering Garden (2015/8:37)
Joey Zaurrini — Living Spaces (2017/5:23)
Shane Byrne — Proprioception (2016/6:00), for gestures and Xbox Kinect
David Quang-Minh Nguyen — Pictured Remnants (2016–17, 7:50)
Joshua Horsley and Magda Stawarska-Beavan — Bosphorus (2017/22:14), video
Robert McClure — Lingering Garden
Lingering Garden refers to the specific Chinese classical garden in Suzhou, China. A striking feature of the Lingering Garden is the multitude of "scholar stones", large rocks that have been naturally carved to make unique shapes. These stones were transported to the gardens and chosen based on their thinness, openness, perforations and wrinkling, æsthetic qualities valued since the Tang Dynasty. These four qualities are the basis for how many of the sounds in the composition Lingering Garden have been processed. Another important quality for the stones was the resonance or ringing when struck and texture, which enter into the piece via sounds of stones or rocks being struck, scraped or rubbed. Other sounds include those taken from my collection of singing bowls, gongs and small metal instruments, a large Chinese drum, and digging in dirt and field recordings taken directly from the Lingering Garden in the summer of 2015.
Robert McClure's music attempts to discover beauty in unconventional places using non-traditional means. Visual art, poetry, the natural world, neurological and mathematical concepts are all elements that influence McClure's works. His work has been featured at festivals such as the New York City Electronic Music Festival, the Sonorities Festival of Contemporary Music, the Toronto International Electroacoustic Symposium, SEAMUS and ICMC. His works may be found through ADJective New Music LLC, Bachovich Music Publications, Imagine Music Publications, Innovative Percussion, Media Press, Inc., Resolute Music Publications and Tapspace Publications, as well as on the ABLAZE and Albany Record labels. Robert received his doctorate from the Shepherd School of Music at Rice University, where his primary mentors were Shih-Hui Chen, Arthur Gottschalk and Kurt Stallmann. Robert has previously held positions at the Shanghai Conservatory of Music and Soochow University in Suzhou, China. He currently serves as an Assistant Professor of Composition/Theory at Ohio University.
JOEY ZAURRINI — LIVING SPACES
Using field recordings of busy intersections, shopping malls, metro stations and markets, this stereo composition explores the repetitive macro noise profile and the hidden micro details embedded inside the average urban soundscape. Living Spaces unravels and overlays the unique sound profiles of various spaces and utilizes the city as a musical instrument. The first section contains elongated recordings of city drones that mask other frequency activity; the second section introduces sounds that can be heard peaking out of the drones due to their varying frequencies, higher intensity and sharp attacks; finally, the third section makes way for more percussive, less repetitive foreground material, driven forward by the sounds of walking in the snow. In this respect, this composition is an effort to accentuate city drones, reorder the small details such as sounds produced by birds or humans and sensitize the listener to narratives found within sonic spaces.
Joey Zaurrini is a Montreal based music composer and sound designer, working in a wide variety of fields including film, theatre and dance. Using sound to facilitate narratives and create stories of his own, he spends most of his days immersed in a laboratory of noise and electronics, where every object is a potential instrument. His areas of interest include decoding the compositions of soundscapes, researching trends in cityscapes, and experimenting with the idea of une niche fréquentielle, or a frequency niche from which his next story will unfold. He can be found attending workshops and classes, in the middle of deep collaborations or roaming streets and deserted hallways with a recorder in hand.
SHANE BYRNE — PROPRIOCEPTION
for gestures and Xbox Kinect
Proprioception is an exploration into the use of the human body as a tool for musical expression in the performance of electroacoustic music. Using the Xbox Kinect sensor and the audio programming environment Csound, the subtle corporeal motion of the performer is used to both trigger and manipulate sonic events in real time. This piece is part of my ongoing investigation into embodying music through the use of physical form and how this embodiment can be used as a signifier to potentially enhance the expression of electroacoustic music.
Shane Byrne is a composer of acoustic and electronic music and is currently a PhD candidate at Maynooth University focussing on interactivity and participation within the context of electroacoustic music composition. In 2013 he completed his BA in Music Technology and in 2014 completed an MA in creative music technologies, both with first class honours. His current work is concerned with physical computing and the potential for intuitive human-computer interaction to add to an overall immersive musical experience for both the performer and the audience.
DAVID QUANG-MINH NGUYEN — PICTURED REMNANTS
Based on concepts found within the film Rashomon by Akira Kurosawa, Pictured Remnants explores the idea that no one can escape their own biases — even within the realm of something that may seem objective, like experience. Each person is going to have a different set of values and experiences that will shade their perception. In an attempt to sonify conflicting interpretations of a single event or gesture, Pictured Remnants substitutes values and experience for a constant remodelling of the environment around familiar sonic events. Furthermore, it aims to unify a dichotic space with reflected sounds, leaving only traces of the genuine image fading into the distal space. Furthering the listening experience, the host space is then divided into different areas with superimposed images where areas of the environment are weighted through reflections. These juxtaposed and concurrent reflections symbolize scraps of what were authentic. They disperse beyond the unity of space, which yields fabricated events of the same image.
The music of David Quang-Minh Nguyen can be described as eclectic, diverse in many idioms and organically created from non-musical concepts in which he translates these ideas into sound representations. He has had his pieces performed at the New Music on the Bayou Festival, Electronic Music Midwest Festival, New York City Electroacoustic Music Festival, SEAMUS and the 2015 June in Buffalo New Music Festival, where he took master classes with Harvey Sollberger, Roger Reynolds, Martin Bresnick and Brian Ferneyhough. Born in Virginia, David Q. Nguyen holds a BM from Old Dominion University (Norfolk, VA). During his undergraduate studies, his primary teachers were Andrey R. Kasparov and Mark Chambers. He received his Master's from and is currently a doctoral student at the University of Illinois Urbana-Champaign, where his primary teachers are Reynold Tharp, Sever Tipei, Erik Lund, Eli Fieldsteel and Scott A. Wyatt.
JOSHUA HORSLEY AND MAGDA STAWARSKA-BEAVAN — BOSPHORUS
Bosphorus is a film and composition that reflects upon the complexity and diversity of Istanbul and its natural and political borders. As these borders, shift, change, open and close, the geography remains. The desires and needs to cross these borders evolve with political change. In a climate where borders, migration and refuge are common, the sea has become a symbolic place of crossing, desperation and hope. Two single-shot, real-time films are displayed on a single screen, depicting the journeys from East to West and vice versa with 8-channel audio communicating the Bosphorus as a space and place. The composition is comprised of binaural and hydrophone recordings of the strait, combining concrete and processed sounds to communicate both objective and subjective accounts of the crossings.
Joshua Horsley's practice engages with minimal extents in music and in sound. He explores how reduced time, material, sound object, place and gesture can affect compositional process, the realized work and audience engagement. Joshua works within acoustic, electronic and electroacoustic remits, often presenting work alongside other disciplines. His practice and research have been disseminated internationally and have included presentations at Tate Modern, Toronto International Electroacoustic Symposium, UK Houses of Parliament and Ljudbio på Slottsbiografen. Magda Stawarska-Beavan is a multidisciplinary artist whose practice is concerned with the evocative and immersive qualities of sound. She works with sound, moving image and print, connecting traditional printmaking processes with digital technologies. Recent presentations include Sonic Garden in Kapelica Gallery (Slovenia), 28th Exposition of New Music Brno Festival, TONSPUR in MQ21 (Vienna), 10th International Biennial of Contemporary Print (Liege), Guanlan International Print Biennial (China), Circuit Bridges New York Concert and Kinokophonography Night at The New York Public Library for Performing Arts.
19:30–22:00 • Sound Travels Concert #2: Object Response
Venue: Ernest Balmer Studio Host: TBD
Programme notes and biographies for the evening Sound Travels concerts can be found on the NAISA website and in the Sound Travels programme booklet. https://naisa.ca/festivals/sound-travels